Book: The West Australian Mandolin Orchestra: Our First 40 Years 1976 - 2016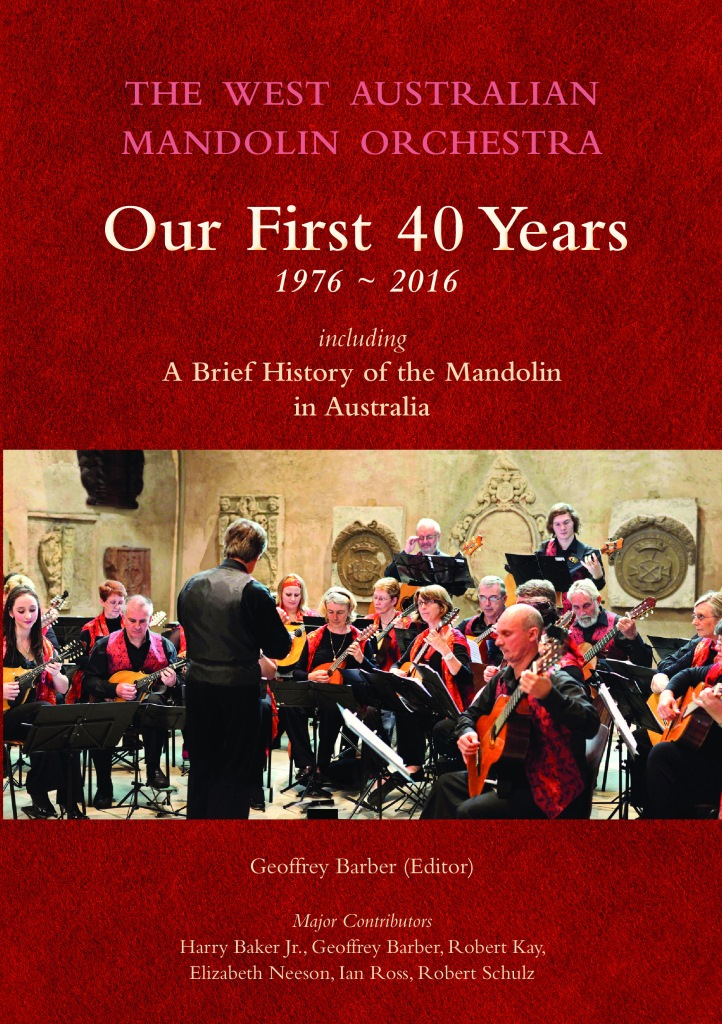 Nearly two years in preparation, the 284-page book "Our First 40 years 1976-2016" documents the 40-year history of their orchestra and includes a 50-page history of the mandolin movement in Australia which began in the 1890s.
The book is a landmark for the community orchestra scene in Australia as so much of its history is normally allowed to fade away and be lost.
Contact Geoffrey Barber on 0412 677 133 or alternatively ggbarber@gmail.com to reserve a copy today!
Payments can be made via: PayPal: wamandolins@gmail.com
Direct Bank Transfer:
National Australia Bank
BSB: 086-217
ACCOUNT: 508 243 847
ACCOUNT NAME: WAMO Cheque Acct
Book Cost: $45.00 AUD
Postage and Bag Cost (if applicable):
Australia - $15.00 AUD
New Zealand - $22.75 AUD
Postage overseas (excluding to New Zealand) is subject to change.
Reviews
Reviewed by Ray Carroll - 10 January 2016.
"Whether you are only interested in the history of the West Australian Mandolin Orchestra (WAMO), or more broadly that of the mandolin movement in Australia, or just simply desiring to be possessed of an attractive and fascinating book for the home library or coffee table, Geoff Barber has come up with the goods with his informative, comprehensive, and entertaining volume entitled The West Australian Mandolin Orchestra - Our First 40 Years 1976-2016 - including a Brief History of the Mandolin in Australia".
"Highly recommended!".
Reviewed by Werner Ruecker - 11 February 2016.
"Geoff and all the WAMO members who have contributed to the content of this book should and can be immensely proud of the finished product".
"In reading this book I learnt much which I didn't know, about WAMO's early years and the Fremantle Music School".
"Combined with the photos included it shows just how far this one group has come from its humble beginnings. It is not just a history of WAMO though. It also helps document the story of the mandolin movement and other groups in Australia."
"It is informative, interesting and easy to read and is in some respects that "good old yarn" I mentioned earlier".
"Can I take this opportunity to wish WAMO a very happy "40th Birthday Concert and Book Launch" on 19 March. I wish I could be there to celebrate with you".