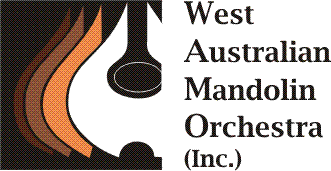 The West Australian Mandolin Orchestra (WAMO) Inc. was formed in Fremantle over 40 years ago and continues to be Perth's premier mandolin and guitar ensemble. WAMO is a non-profit, community based orchestra comprising of instruments from the plucked string family - primarily mandolins, mandolas, guitars and bass guitars. The Orchestra perform a number of times each year in Perth and country areas. The musical director and conductor of WAMO is Robert Schulz.
The repertoire is chosen from a wide variety of music spanning 400 years from Renaissance to the present day, and WAMO is proud of its reputation for performing new works by Australian composers.
UPCOMING CONCERTS
WAMO's next concert will be held in April, 2019. Stay tuned and refer back to this page in the new year for more details.
The Summer Mandolin & Guitar Workshop will be held in January 2019 at the Rhein Donau Club. Registration form here. Open to players of all ages and abilities, this 4 day event will provide opportunity for
ensemble playing - both in small groups and larger ensembles
workshops- practice technique,
conducting
introductory workshops for new players - for players with little or no previous experience
All workshops will be given under professional guidance and some instruments are available on request.
Daily sessions run from 10am - 4pm with morning tea, lunch and afternoon tea provided