UPCOMING CONCERTS
GUITARSTROPHE! with WAMO
Guitarstrophe! The West Australian Guitar Ensemble joins with the West Australian Mandolin Orchestra to present an afternoon of plucked string music. The concert will feature music from around the world and across the centuries, as well as some new works by Australian composers.
Callaway Auditorium, Music School, University of Western Australia
12:30pm
Saturday 16 June 2018
Tickets $20, concession $15
Tickets available through TryBooking. Door sales available if not sold out.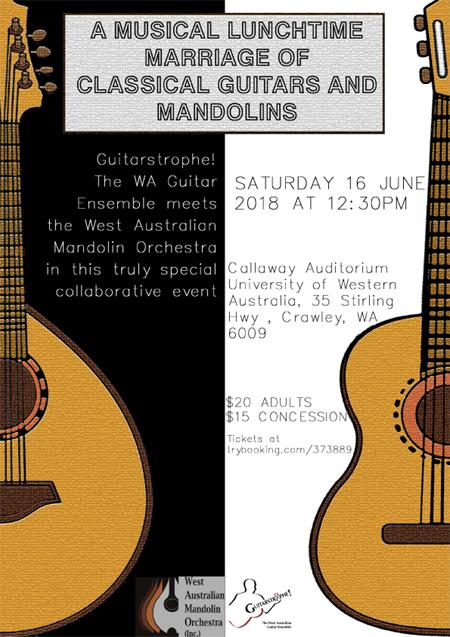 SPRING CONCERT
featuring Duncan Gardiner (guitar) and Masataka Hori (mandolin)
with the West Australian Mandolin Orchestra
Kalamunda Performing Arts Centre (KPAC)
4:00 pm
Saturday 8th September 2018
Tickets $30, available through TryBooking XXXXXX
November Cafe Concert - Rhein Donau Club
Rhein Donau Club, 110 Northlake Rd Myaree
4:00 pm
Saturday 24th November 2018
Tickets $20